NDIS Western Suburbs Melbourne—Your Trusted NDIS Registered Service Provider
Over 500,000 Australians are currently enduring some form of partial or permanent disability. With the increasing number of Australians living with disabilities, the need for the National Disability Insurance Scheme (NDIS) and dedicated disability service providers is more dire than ever. As a registered NDIS disability service provider, Sheltering Arms focuses on giving comprehensive support and assistance to individuals so they can lead normal lives.
Explore Our Range of NDIS Services-Short Term & Respite Accommodation, and Community Participation
Let's take a closer look at the specific services we offer and how these services can make your life easier:
Respite Care and NDIS Short Term Accommodation (STA)

At Sheltering Arms, we understand the importance of taking breaks and providing respite for both individuals with disabilities and their primary caregivers. Both participants and their caregivers can enjoy the benefits of our short term accommodation (STA) services in and around Western Suburbs Melbourne. The existence of STAs is meant to allow people with disabilities to take a break from their family home, which may offer some respite to their caregivers as well.

At Sheltering Arms, our NDIS short term accommodation services include pairing you with the right style of accommodation and customising the stay as per your needs. As leading NDIS Short Term Accommodation providers, we ensure comfortable and accessible accommodations for our participants.

NDIS Medium Term Accommodation (MTA)

Our NDIS medium term accommodation services in Western Suburbs Melbourne provide a comfortable and supportive living environment. The accommodation is primarily for individuals needing substantial disability-related modifications or renovations in their homes.

MTA can be suitable for those requiring urgent 24 hour care and it is sponsored for up to 90 days, which mainly covers the cost of lodging. As a trusted NDIS medium term accommodation provider, we guarantee outstanding accommodations and complete support for individuals with specific needs.

NDIS Supported Independent Living (SIL)

For a person with severe impairments, the most immediate need is assistance with daily life. We assist our participants in day-to-day tasks, such as showering, getting dressed, cooking meals, cleaning, and shopping to empower them to live independently. The Supported Independent Living NDIS program helps participants master essential life skills with a little help from our SIL providers.

Sheltering Arms encourages adults with disabilities and high support needs to retain control of their own lives by providing individual as well as shared housing facilities. Our NDIS Supported Independent Living services include a personal or shared room with someone who has similar needs.

NDIS Home Care Services

Our comprehensive NDIS Home Care Services aims to empower individuals with disabilities to continue pursuing their passions and activities. To this endeavour, we provide assistance with personal tasks, daily living activities, household assistance, transportation, and community participation, among other things. As a Registered NDIS Service Provider, we have a team of medical professionals committed to improving your quality of life by helping you perform and relearn essential tasks.

NDIS Transport Services

Accessing transportation can be challenging for individuals with disabilities. NDIS Transport Services are designed to provide complete assistance in this arena, ensuring prompt and hassle-free transit tailored to your specific needs. Our NDIS transport providers are well-trained for tasks like finding the most appropriate vehicle, driving you around, and getting essential modifications done to your vehicle in case you wish to keep driving.

Social and Community Participation NDIS

Sheltering Arms offers a wide range of NDIS Recreational Activities intended to improve your physical and emotional well-being. This program facilitates participation in social clubs, vacations, library visits, movies, concerts, and community events.

Sports and Recreational Programs

Our organisation promotes inclusive opportunities for individuals with disabilities through our Disability Sports and Recreation programs. Our NDIS Social and Recreational Support programme also encourages you to keep in touch with hobbies while striving for physical and financial freedom. You can take part in group activities like sports, movies, camping, and volunteering or apply for individual tasks, attain new skills, take exciting courses, and do all the things you love.
Why NDIS is Important?
People with disabilities deserve equitable access to opportunities and need various levels of assistance to make the most of them. This is where the NDIS or National Disability Insurance Scheme comes in. The government-funded programme in Australia aims to provide support at every level to people with partial or permanent impairments. Here are five reasons why the scheme matters so much:
Personalised Assistance

The NDIS disability services follow a person-centric approach, which means the support provided is tailored to the individual's needs, goals, and aspirations.

Enhanced Quality of Life

Services like NDIS short term accommodation, home care assistance, assistance with activities of daily living, and transport support are designed to help you live more independently, accomplish goals, and stay productive.

Increased Choices and Control

The primary objective of the NDIS is to give people with disabilities more choices and control over the support they receive. Participants have the freedom to make decisions about the type and level of care they require.

Improved Economic Benefits

The NDIS recognises the importance of economic independence and seeks to create opportunities for employment and community engagement. By facilitating access to support services that promote skill development, the NDIS strives to help people with disabilities retain their financial independence.

Healthy Social Engagements

Social inclusion and connection are vital for overall well-being. The NDIS heavily promotes social inclusion by encouraging individuals to participate fully in their communities. Social engagements help people with disabilities reduce isolation or loneliness and foster meaningful connections.
Why Choose Sheltering Arms — Your Trusted NDIS Registered Provider in the Western Suburbs Melbourne
At Sheltering Arms, our mission is to provide unwavering support to individuals with disabilities, empowering them to take control of their lives. Our aim is to make sure that people with disabilities receive all the support they need to become the masters of their lives. As a trusted NDIS disability service provider in Western Suburbs Melbourne, we offer a comprehensive range of services tailored to meet your specific needs.
Our NDIS support coordination providers specialise in offering comprehensive support coordination and plan management services to individuals under the NDIS program. Our NDIS Support Coordination services ensure effective coordination and facilitation of support services for individuals, maximising their access to and utilisation of NDIS funding and resources.We are the trusted providers of all things NDIS related from NDIS transport services to assistance with self-care activities as well as NDIS social and community participation programs.
If you are looking for a reliable NDIS registered provider in St. Albans, Footscray, Essendon, Braybrook, Yarraville, or anywhere in Western Suburbs Melbourne, reach out to us. Call us on 1300 952 289 or email info@shelteringarms.net to get the exact type of care you need.

We value honesty above all else. A strict policy of non-tolerance is adopted in Sheltering Arms against false promises, corruption, lying, and thieving.

All of these values lead to trust. Your trust in us with your health or your loved one's health is the fuel that keeps us motivated to do better, be better, and above all to give our best. Sheltering Arms is here to build a long-lasting relationship based on respect and trust.

Everyone in this world deserves to be treated with dignity and compassion. Our policies and attitude do not change according to people's looks or ethnicities or cultures. The staff has been trained to treat everyone respectfully.

We are constantly trying to evolve disability care services to improve the existing quality of aid provided. If you need customised care services, we are your go-to people.

We believe that criticism is equally, and sometimes, more important than compliments to grow in life. Feedbacks are the backbone of the service industry. Our team members take ownership of their mistakes and work on self-improvement. Flawless services is something we aspire to provide, and the first step to achieving this goal is accepting that sometimes we falter and personal growth is a constant process.

We know we worthy of our participants trusts we are dependable; faithful; authentic. There's no way around it, building trust takes time and we have all the time.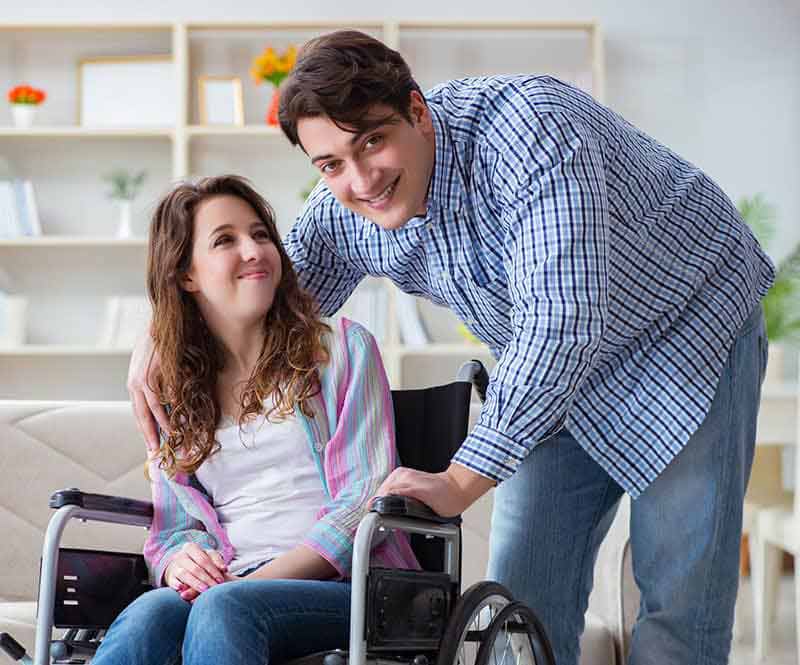 Sheltering Arms specialises in 24-hour disability programs for individuals with multiple and complex needs in Melbourne.
Our mission is to provide timely, articulate, sustainable and flexible services to promote and support better living standards.
Our vision is to become the most reliable service provider across Australia. Being able to provide living support and participation aid in a moment's notice is our ultimate goal.