Find the Best NDIS-Supported Independent Living in the Western Suburbs Melbourne
Every individual has a specific set of requirements and needs based on their disability. It is crucial for an NDIS registered provider to understand these requirements to provide the perfect personalised support. Personal care and support in your own space is what Sheltering Arms offers as part of our NDIS-supported independent living services.
As a registered NDIS disability service provider, we support individuals with disabilities by providing assistance when and where required. Our support staff provides comprehensive care packages including NDIS support coordination, assistance with self-care activities and NDIS plans chosen by the participants. If a person has Independent Living in their NDIS plan, they are entitled to 24/7 support in the following areas:
Financial matters: Money management and budgeting
Social matters: Help to improve your interaction with people and socialising skills
Personal grooming: Hygienic care, for example taking a bath, shaving and dressing
Domestic matters: Assistance with cleaning, cooking, running errands, changing light bulbs and so on
Travel support: Doctor's appointments, social events etc
Ongoing assistance with daily life skills
The Independent Living provider also manages the staff that work on the property, deals with any HR components, s and screens support workers
How to Find the Best Supported Independent Living Provider?
A home should fulfil certain criteria to be a supported independent living space. A good NDIS support coordination can help you find the perfect home in no time at all. This is to ensure that it meets the standards of NDIS Short-term accommodations, NDIS Medium-term accommodations and NDIS respite accommodations. Additionally, here are some pointers to remember while looking for the best NDIS-supported independent living in the Western Suburbs of Melbourne:
Adjustable benches and platforms that facilitates NDIS home care services
Spacious rooms and bathrooms for wheelchair and other assisted movement accessibility
The width of the doorways and height of the electrical fitting should be constructed keeping in mind the needs of the people with disability
Well-lit and airy rooms to maintain a positive attitude for the residents of the NDIS-supported independent living houses
Spacious outdoor area that supports NDIS recreational activities
Supermarkets and necessary medical care should be in the vicinity
Make sure that your housemates have similar interests NDIS social and recreational support should be easily accessible
Home care assistance should be available according to your needs
Look for independent living that suits your allotted budget and day-to-day needs such as NDIS assistance with daily life programs. Keep in mind your short-term and long-term goals while looking for the best options.
How to Get Funding for Supported Independent Living?
Your NDIS support coordination can help you with this important process. The funding for the NDIS-supported independent living works according to the following guidelines:
Your NDIS plan assigns funding for Independent Living, but, unlike the NDIS plan where the exact amounts are assigned to various categories, SIL plans do not have an exact specific amount
You work with a NDIS Support Coordinator who prepares a care roster which keeps track of the level of day-to-day NDIS disability services that you need
Then, you look for NDIS disability providers who will provide options based on your plans and budget
The levels of funding are classified into three categories depending on the level of support required:
Lower Needs: The funding is provided only for the supervision of living arrangements.
Standard Needs: Funding is provided for 24/7 support, and includes supervision or active assistance with daily chores and overnight duties.
Complex Needs: Funds are provided for frequent assistance to the individual. Challenging behaviours as well as management of medical needs and overnight support are covered under this.
An unspoken rule is that you must be eligible for NDIS support. Professional NDIS support coordination providers will inform you of all these basic requirements beforehand. You must have definite proof of your eligibility when meeting with your NDIS coordinator and registered provider for funding your supported independent living plan. Inability to provide sufficient proof may lead to rejection.
Why Choose Sheltering Arms for Supported Independent Living?
Sheltering Arms is one of the preferred NDIS-supported independent living service providers in the Western Suburbs Melbourne. Our 'people first' approach has endeared us to our participants and established us as one of the leading NDIS service providers. We are the trusted providers of all things NDIS related from NDIS transport services to assistance with self care activities NDIS to social and community participation NDIS programs.
Sheltering Arms offers several types of accommodations and disability support services to you and your loved ones. If you are looking for a reliable NDIS registered provider in St. Albans, Footscray, Essendon, Braybrook, Yarraville, or anywhere in Western Suburbs Melbourne, you are looking at them. We will provide the best independent living experience that is second to none. Call us right now on 1300 952 289 to talk to our experts and schedule a consultation. You can also email us at info@shelteringarms.net for additional information.

We value honesty above all else. A strict policy of non-tolerance is adopted in Sheltering Arms against false promises, corruption, lying, and thieving.

All of these values lead to trust. Your trust in us with your health or your loved one's health is the fuel that keeps us motivated to do better, be better, and above all to give our best. Sheltering Arms is here to build a long-lasting relationship based on respect and trust.

Everyone in this world deserves to be treated with dignity and compassion. Our policies and attitude do not change according to people's looks or ethnicities or cultures. The staff has been trained to treat everyone respectfully.

We are constantly trying to evolve disability care services to improve the existing quality of aid provided. If you need customised care services, we are your go-to people.

We believe that criticism is equally, and sometimes, more important than compliments to grow in life. Feedbacks are the backbone of the service industry. Our team members take ownership of their mistakes and work on self-improvement. Flawless services is something we aspire to provide, and the first step to achieving this goal is accepting that sometimes we falter and personal growth is a constant process.

We know we worthy of our participants trusts we are dependable; faithful; authentic. There's no way around it, building trust takes time and we have all the time.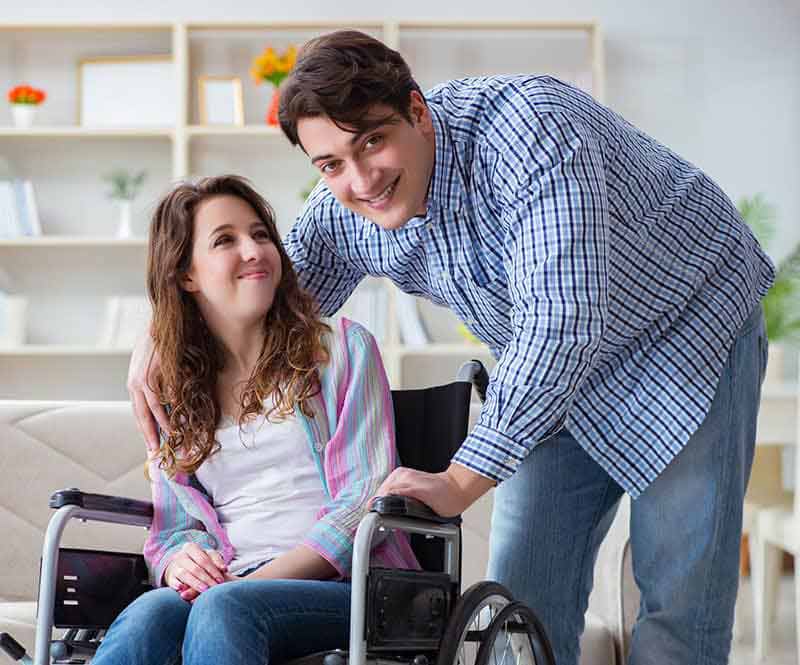 Sheltering Arms specialises in 24-hour disability programs for individuals with multiple and complex needs in Melbourne.
Our mission is to provide timely, articulate, sustainable and flexible services to promote and support better living standards.
Our vision is to become the most reliable service provider across Australia. Being able to provide living support and participation aid in a moment's notice is our ultimate goal.