NDIS Northern Suburbs Melbourne — The Most Reliable NDIS Service Provider
In Australia, the National Disability Insurance Scheme (NDIS) plays a critical role in supporting individuals with disabilities and ensuring their access to personalised assistance. The programme aims to empower those with disabilities to live normal lives by providing them with different support packages and collaborating with multiple NDIS Registered Providers across the country.
As one of the most trusted NDIS Disability Services Providers, Sheltering Arms strives to provide comprehensive support to individuals in the pursuit of leading fulfilling lives on their own terms.
Some NDIS Services We Offer— Short Term Accommodation, Support Coordination and more..
Delving deeper into our array of services, here's how Sheltering Arms enhances people's quality of life:
NDIS Short Term Accommodation (STA)

The NDIS short term accommodation is intended for short periods of respite for the person with a disability as well as their primary caregiver. It might be that you want a change of scenery or a break from home. We provide NDIS respite accommodation for anywhere between a few hours to several days. As NDIS Short Term Accommodation providers, Sheltering Arms offers temporary housing solutions tailored to the specific needs of individuals requiring short-term support.

NDIS Medium Term Accommodation

If your house is undergoing modifications to make it more disability-friendly, you may need a suitable place to stay for a longer period. For those participants, NDIS medium term accommodation (MTA) provides a suitable place to stay with personalised care and assistance. It is sponsored for up to 90 days, during which you will have an individual or shared room and personal care and assistance.

Our organisation takes pride in being recognised as one of the leading NDIS Medium Term Accommodation Providers, providing high-quality accommodations that meet the unique requirements of participants for a designated duration.

Assistance With Daily Living

At Sheltering Arms, our purpose is to make life as easy and independent as possible for individuals with disabilities and their families.That's why we have made NDIS Assistance With Daily Life a part of our various plans, so you can receive comprehensive support in your own home.

This programme covers various daily assistance tasks, including personal hygiene, bathing, household activities and short-term lodging. With the guidance of our support workers, we help individuals learn life skills and become more self-sufficient.

Supported Independent Living NDIS

Independence is a priceless gift, especially for individuals with disabilities. Our NDIS Supported Independent Living (SIL) programme strives to rekindle that sense of joy and empowerment among participants. In addition to assistance with household errands and personal duties, this service offers individual and shared lodging facilities for those who wish to live as part of a community.

Through our assistance with activities of daily living, you will have the opportunities and resources to develop self-sufficiency. This program helps you to exercise more control over your life and daily activities.

Personalised Home Care

The idea behind our NDIS Home Care Services is simple — to help you feel at home in your own home. This service helps people with disabilities perform their daily routines independently and enhances their well-being.This plan provides assistance with household chores, travel, community participation, and urgent care.

At Sheltering Arms, we aim to understand the unique needs of each individual to customise a strategy for you. With our home care assistance facilities, you'll have access to 24 hour services from experts who are experienced in medication and healthcare management.

NDIS Transport Services

Our NDIS transport services ensure seamless and hassle-free travel for individuals with disabilities.  As a Registered NDIS Service Provider, we provide access to adapted vehicles that have been modified to meet the specific needs of participants.

If individuals prefer to use their own vehicles, our NDIS transport providers can assist with the necessary modifications. Moreover, our support workers are always available when you need to call a taxi, use public transport, run errands, or just drive around.

NDIS Recreational Activities

To combat social isolation and promote social inclusion, Sheltering Arms facilitates the NDIS Social and Recreational Support Program. This program offers a wide range of opportunities for sports, music, art, adventure, and your own hobbies. Individuals can participate in various activities and engage with the community through volunteering and hosting activities. Through Disability Sports and Recreation programs, individuals with disabilities can enjoy the benefits of active participation, promoting physical fitness, social connections, and personal growth.

Social and Community Participation NDIS

NDIS Social and Community Participation programs aim to enhance individuals' social inclusion and community involvement, empowering them to actively participate in diverse social settings and community events.

Assistance with Self Care Activities NDIS

NDIS program provides essential assistance with self care activities, ensuring individuals receive the support they need to maintain their personal well-being and independence. This NDIS support encompasses a range of services that promote their overall empowerment and quality of life.

NDIS Support Coordination and Plan Management

NDIS Support Coordination Providers specialise in support coordination and plan management, ensuring individuals receive the assistance they need to navigate their NDIS plans effectively. NDIS Support Coordinators work closely with participants, offering personalised guidance and expertise to optimise their plan utilisation and achieve their goals.
What Are The 3 Main Support Purpose Categories In NDIS?
Under the NDIS, participants are given access to 3 support budget categories — Core Supports, Capacity Building Supports, and Capital Supports.
Core Supports : are designed to offer assistance to perform everyday tasks and activities.

Capacity Building Supports : empower participants to live independently and learn life skills.

Capital Supports : are essential for those who need assistive technology and house modifications.
Why Pick Sheltering Arms As Your NDIS Provider In Northern Suburbs Melbourne?
We are one of the best NDIS Registered Providers in Northern Suburbs Melbourne providing high-quality services in all three support purpose categories. Our programs are designed to meet the diverse needs of participants, ensuring holistic care and well-being. Our team of dedicated NDIS disability providers is committed to delivering high-quality care and assistance, ensuring that individuals with disabilities receive the necessary support to enhance their independence and well-being.
Sheltering Arms is an NDIS registered provider that's here to support you with our varied range of NDIS recreational activities in Meadow Heights, Mernda, Thornbury, Greenvale and other Northern Suburbs Melbourne. Trusted among participantsin the Northern suburbs of Melbourne,we have helped many people with disabilities to lead independent lives while actively engaging in social events. To learn more about how Sheltering Arms can support you through the NDIS, call us on 1300 952 289 or email us atinfo@shelteringarms.net today!

We value honesty above all else. A strict policy of non-tolerance is adopted in Sheltering Arms against false promises, corruption, lying, and thieving.

All of these values lead to trust. Your trust in us with your health or your loved one's health is the fuel that keeps us motivated to do better, be better, and above all to give our best. Sheltering Arms is here to build a long-lasting relationship based on respect and trust.

Everyone in this world deserves to be treated with dignity and compassion. Our policies and attitude do not change according to people's looks or ethnicities or cultures. The staff has been trained to treat everyone respectfully.

We are constantly trying to evolve disability care services to improve the existing quality of aid provided. If you need customised care services, we are your go-to people.

We believe that criticism is equally, and sometimes, more important than compliments to grow in life. Feedbacks are the backbone of the service industry. Our team members take ownership of their mistakes and work on self-improvement. Flawless services is something we aspire to provide, and the first step to achieving this goal is accepting that sometimes we falter and personal growth is a constant process.

We know we worthy of our participants trusts we are dependable; faithful; authentic. There's no way around it, building trust takes time and we have all the time.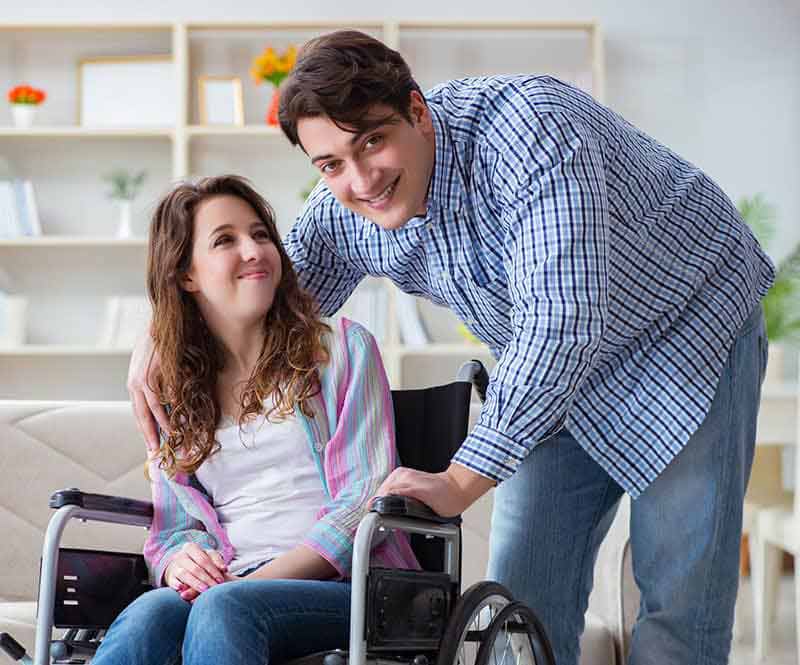 Sheltering Arms specialises in 24-hour disability programs for individuals with multiple and complex needs in Melbourne.
Our mission is to provide timely, articulate, sustainable and flexible services to promote and support better living standards.
Our vision is to become the most reliable service provider across Australia. Being able to provide living support and participation aid in a moment's notice is our ultimate goal.