Building Confidence through NDIS Community Participation Activities In Epping
Individuals with a disability are generally reluctant to interact and engage in activities in a social setting. Social interaction is a critical aspect of our lives. At Sheltering Arms, we understand the role community participation can play in bringing people out of their shells and improving their quality of life. As NDIS disability service providers, our objective is to build an environment that welcomes people regardless of their disabilities and promotes their well-being through social and community participation in NDIS sponsored events.
What is Community Participation?
Social and community participation encourages individuals with disabilities to participate in educational or social activities to increase their connection to society. Social isolation is one of the main dangers that people with any kind of disability face. The fear that they will not be understood, accepted or respected leaves them scared and unable to navigate social behaviours. The entire purpose of the NDIS recreational activities and community participation program is to include people with disabilities in the social structure and treat them respectfully.
Participants will need to pay the fees or registration costs of the program so that they are eligible for the full support from our staff. Regardless of whether short-term aid or support for an ongoing activity is required, Sheltering Arms will deliver. In some cases, the core budget may already have provisions for a social and community participation NDIS plan. This funding can be used for the assistance with social and community events. Our team is always on hand to guide our NDIS clients regarding disability sports and recreation support.
Participants may find themselves unable to attend such activities due to location issues. An activity a participant is really interested in may be held in a different city or state altogether. In such cases, Sheltering Arms offers NDIS short-term accommodation, NDIS medium-term accommodation, NDIS respite accommodation, NDIS transport services, NDIS supported independent living, NDIS assistance with daily life and assistance with self care activities NDIS services for the participant and their caregivers. This allows them to attend such activities and relax and recuperate at the same time.
What Activities Are Included in Social and Community Participation NDIS Programs?
We have compiled a list of activities NDIS participants can engage in with our help. Our team is here to help them and find the best fit. Some of the most popular NDIS recreational activities are:
Taking part in dance classes

Making friends at your local soccer or rugby club

Imitating artists like Picasso in painting or pottery classes

Attending a concert by your favourite band with your support worker

Counting the stars on an overnight camping trip with friends

Learning to barbeque for the next neighbourhood party

Burying your nose in books at a local library
Volunteering at a charity event and trying to do your part in the society

Catching up on your favourite movies at the mall

Join personal development courses like learning a language or a life skill

Book a holiday trip to the place you have always wanted to visit

Learning to play an instrument of your choice

Spending a beautiful day on the beach soaking up the sun and sand

Sitting in a quaint little café for a cup of coffee with a friend
The activities can be one-to-one with your support worker or in a group of peers, whichever catches your fancy.
What Are the Benefits of Community Participation in a Social Setting?
Humans crave social interaction and a sense of belonging, preferably to a group that understands and respects us. This basic human need is behind our desire to connect with one another and must not be ignored. For a person with a disability, social and community participation by NDIS is an opportunity to go out and about, meet new people and find much-needed connection with other human beings. The benefits of engaging in community participation are many, but here are a few to help you make a decision:
Meeting people with different stories inspires you to try new things

You learn to step out of your comfort zone

Your confidence and your family's confidence in your abilities to handle yourself socially increases significantly

Making new friends is always a welcome outcome of community participation

You might end up meeting people who will remain special to you for the rest of your life

It broadens your mind and changes your perspectives on life

Makes you confident and happy with your life and increases your sense of contentment
How Do I Get Funding For NDIS Community Participation?
Sheltering Arms is a registered NDIS disability services provider in Epping. We encourage people to check their NDIS plans for assistance with community participation. This is important because the amount for transportation, support worker fees and any other kind of special alteration or tools can be covered under your NDIS plan.
While choosing or planning an activity, talk to us so that we can help you figure out what kind of assistance will be required and if it is included in your NDIS plan or not. For the NDIS to cover any activity under its plan, it must first be considered "reasonable and necessary". Some of the activities or expenses not covered under NDIS plans include:
Food costs while attending an event

Ticket expenses and entry fees to venues or activities

Costs of sporting equipment except for specialist gear
All in all, costs are related to your disability and the goals of your NDIS Plan.
Why Choose Sheltering Arms for NDIS Short Term Accommodation in Epping?
We understand the reluctance of people with disabilities to step out of their comfort zone and the difficulties in feeling accepted as part of the community. But hear us out: We want you to become a part of the community. As a registered NDIS respite care provider, we will provide NDIS short term accommodation and respite care accommodation for the same. This will help you leave the familiar surroundings of your home and learn to adapt to new environments. You will meet new people and house mates, learn to socialise and live with other people in a safe place.
As your NDIS short term accommodation providers, we will provide the following:
Safe respite care accommodation for you and your caregiver to relax and recuperate

Personal care for activities of day-to-day living

Meal preparations that are healthy and nutritious

Activities you can enjoy in a social setting with housemates or the community
It is our sole objective to assist you in making new friends and interacting with your peers without hesitation. Call us on 1300 952 289 and talk to us about NDIS short term accommodation in Epping, and take the first step towards self-actualisation. You may also write to us at info@shelteringarms.net for additional information.

We value honesty above all else. A strict policy of non-tolerance is adopted in Sheltering Arms against false promises, corruption, lying, and thieving.

All of these values lead to trust. Your trust in us with your health or your loved one's health is the fuel that keeps us motivated to do better, be better, and above all to give our best. Sheltering Arms is here to build a long-lasting relationship based on respect and trust.

Everyone in this world deserves to be treated with dignity and compassion. Our policies and attitude do not change according to people's looks or ethnicities or cultures. The staff has been trained to treat everyone respectfully.

We are constantly trying to evolve disability care services to improve the existing quality of aid provided. If you need customised care services, we are your go-to people.

We believe that criticism is equally, and sometimes, more important than compliments to grow in life. Feedbacks are the backbone of the service industry. Our team members take ownership of their mistakes and work on self-improvement. Flawless services is something we aspire to provide, and the first step to achieving this goal is accepting that sometimes we falter and personal growth is a constant process.

We know we worthy of our participants trusts we are dependable; faithful; authentic. There's no way around it, building trust takes time and we have all the time.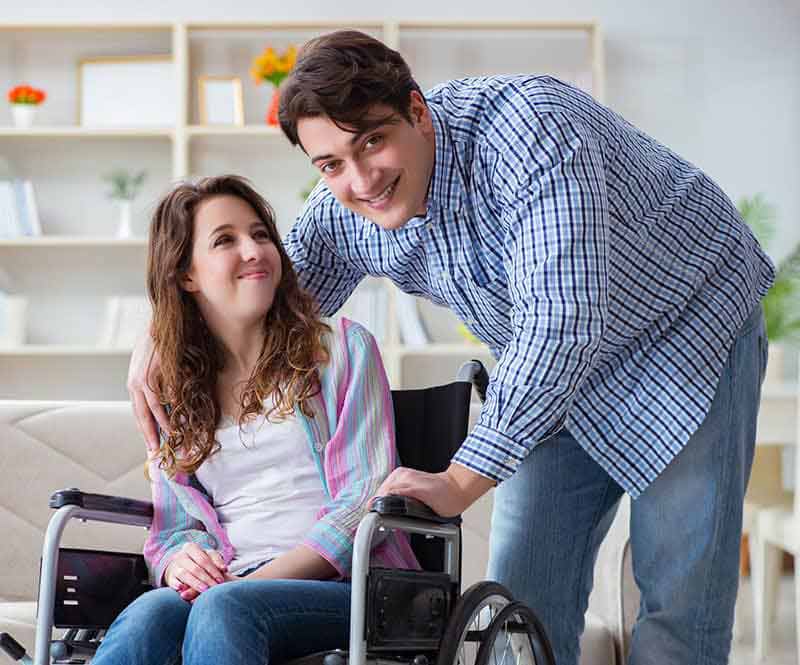 Sheltering Arms specialises in 24-hour disability programs for individuals with multiple and complex needs in Melbourne.
Our mission is to provide timely, articulate, sustainable and flexible services to promote and support better living standards.
Our vision is to become the most reliable service provider across Australia. Being able to provide living support and participation aid in a moment's notice is our ultimate goal.